Are you looking for kitchen support for an event, your community or a retreat? Someone that leads, co-leads or assists you in making sure everyone is well-nourished and taste buds are satisfied?
Let me share some of my most essential kitchen values:
Exclusively working with plants – no animal derived products
Keep it as local, seasonal, organic and whole-food as possible
Use whole-food fats whenever possible (if I use isolated oil, I opt for olive oil)
Deeply in love with baking sourdough breads
Do you feel resonance in what you've just read? And do you see an opportunity to collaborate?
I'd love to hear from you! 🙏✨
Vegan Nutritionist in training
I'm becoming a vegan nutritionist. A service that will potentially allow me to support you on your journey of eating (more) plants, and the gained knowledge will organically melt into my cooking projects. Stay tuned!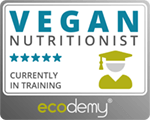 My journey into the kitchen
For years I've been tinkering in my kitchen. I've watched hundreds of cooking videos and experimented a lot.
Cooking for myself is fun, but nothing beats the excitement and joy of preparing a meal for others.
In 2018, my current nomadic life-phase began. While being on the road, I had countless opportunities to learn while cooking for communities, seminar places (including Nature Community (Germany), Schloss Glarisegg (Switzerland) and Schweibenalp (Switzerland)), at events and and at gatherings. In planning, co-planning or assisting roles.
Being able to provide myself, friends and family with delicious, nourishing and potentially healing food has developed into a core value and a passion.
Connecting with food and knowing exactly what ingredients have been used has such a satisfying quality to me. And there's a potential to explore, experiment and to grow with every single dish!
Developing my intuition, flexibility and some foundational strategies has brought me to a place where I can open the fridge and create something from scratch.
Strictly following recipes has never been my thing. So nailing down these vegan recipes that friends have asked me for is a fun challenge. And actually, that was the initial spark that gave life to this very website! ✨
And then there were only plants
My real culinary exploration definitely kicked off when I switched to a vegan lifestyle in 2016. That's when my curiosity, nutrition knowledge and cooking skills really sky-rocked.
Full of excitement I keep exploring and expanding further into the diverse realm of the plant kingdom. Always striving for great flavours that don't have to give way to unhealthy practices.